well, i got to see her recently in a longgg time (i think it's been... 2 years

?!

oh wow.. that's longer than i thought :-O). and the simple dress she wore totally reminded me of miu miu's fall/winter 2010 collection!
maybe it's the cut, the bright colors and the jewel details, but anywho, you are too cute anna - too cute.

click images to enlarge
the bursts of color embellished with meticulous details on a simple frock are just rockin. i really like the bold, retro style of the flowers and dress design mixed with that tech-y silver color - an innovative yet feminine combination!

here's a behind the scenes-ish video of W magazine's photoshoot for miu miu:


and now some news for ya'll. :)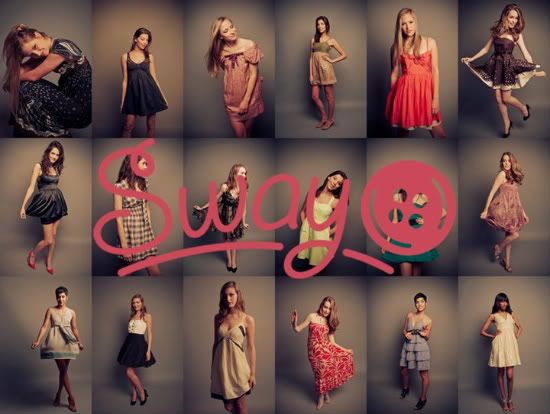 A few weeks ago, a fellow blogger friend invited me to join

Sway.com

and I was like '

I ain't makin' no random accounts

,' but this one is something I really like and it's totally relevant to people who like dresses and or who enjoy getting their voice heard in the fashion industry.

Sway lets normal girls be the fashion buyers and designers: when you make an account, you get to vote for looks that you like and critique them. Then, the look with the most votes will be produced to go on sale and be sold to members for 24-hours at a discounted price. After the "flash sale," the items will be sold at full retail price for non-members.

You can check out this behind the scenes video of their photoshoot. Nice cinematography eh? (I don't know the 'correct' term, but what I mean is the video scenes, angle, etc.) :)

Sway is launching in the Fall, so sign up soon! :) And if you'd like to join, you can become a member via my personal invite. And invite your friends as well! A nice incentive: if any of your friends buy a dress, then you get one free, too. :)
Wow, that was a longgg post! Eek! I hope you
have a great friday!
Song of the moment -
Barcelona - It's About Time (i need to add that to my playlist, but you can
find it here
)